Christmas and Easter are the two weeks every year that almost every church will get the most visitors. It's a time when people who consider themselves Christians but don't necessarily attend a church regularly go out of their way to show up. It's a time of family bonding and traditions and for a lot of people a Christmas candlelight service is one of those family traditions. Even for those that don't identify as Christians, they likely know that Christmas has its roots as a Christian holiday celebrating the birth of Christ and their curiosity just might bring them into a church during this season. Regardless of the reason, the influx of visitors means it's important to have a dedicated landing page for Christmas just like you would for an event. Below are a few things that we recommend you have on your Christmas landing page.
1. Service Times and Location
This might seem obvious, but unfortunately we regularly see churches not include service times and locations in easy to find locations. On your Christmas landing page, make church all your service times for that week (along with any special Christmas events) are clearly laid out towards the top of the page. If you include something like a map, also be sure to include a written address that a website visitor can copy and paste into their phone or link directly to Google Maps for directions. And lastly, be sure to include any virtual and church online experiences. Below you'll see how BattleCreek Church does a great job listing their 21 services across 6 different locations.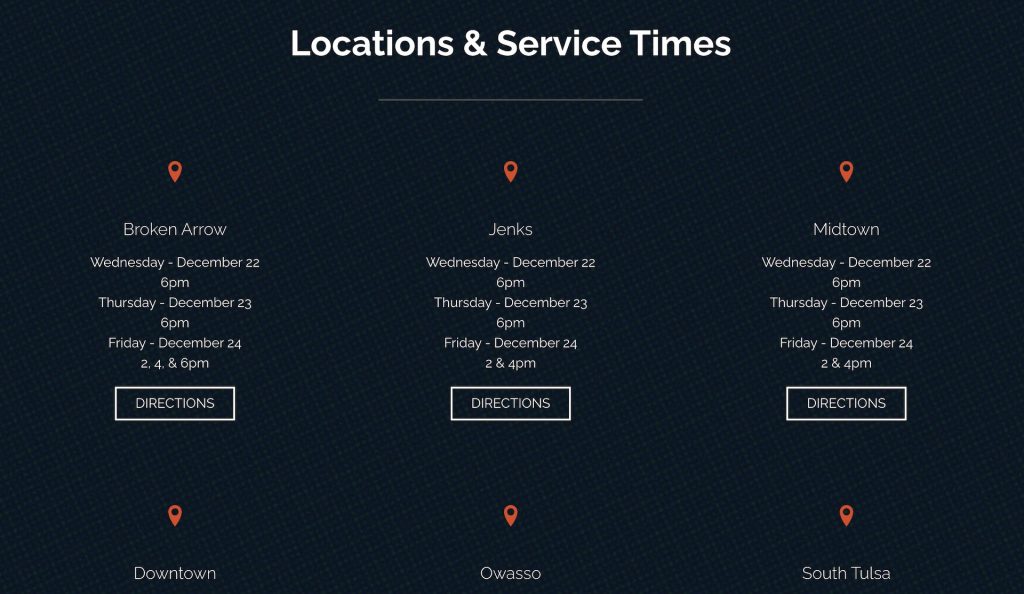 And if you're at a church with less services, here's how New Hope Community Church displayed their different locations, addresses and service times for the Christmas weekend. I love how they gave their Church Online campus the same amount of real estate and the tagline "Same Spirit, Different Seat".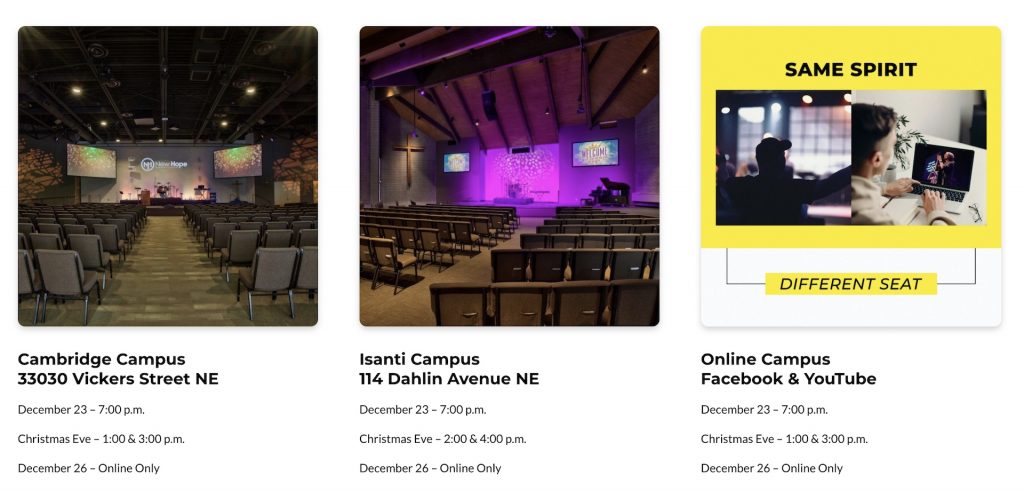 2. Childcare and Family Info
Many families will be interested in visiting your church Christmas service, so it's important to provide any childcare and student info that might be helpful. Are children of all ages welcome in the main services with their parents? Is there a quiet room? Is childcare provided and for what ages? Do I need to register my kids? Can I register them ahead of time? Do you have any groups or events for Middle and High School students? In addition to answering these types of questions, this section is also a great place to include photos of kids singing in a children's service, playing or doing activities as it will show that their kids will not only be taken care of but they're also likely to have fun.
3. Real Photos of Your Church
Photography is a great way to visually communicate what an experience will be like for a visitor, allowing them to imagine what it might be like if they decide to step into your building this week. It can also show how welcoming your church is without having to say so explicitly. While photography is a great way to convey an experience, it's also a helpful way to provide information. Photos of your church service lets visitors know what type of worship style to expect and who the speaker might be when they attend (while giving them a face they'll now recognize). Photos of your volunteer teams and people mingling in the lobby lets a visitor know how people dress at your church and if it's a place they might be comfortable visiting. All of these type of photos are great to have spread across different parts of your Christmas landing page. If you have some photos from last years Christmas service then be sure to include a few of those as well. New Life Church does a great job of this on their Christmas landing page.
4. Covid Policy
Since March 2020 every church in the U.S. has had to share some sort of Covid policy with members and visitors at some point. While Covid is still here and likely around for the foreseeable future, it's important to remember that someone interested in visiting your church, especially with their family, likely wants to know about your policy. Are masks optional or required?  Do they need to be vaccinated? Is there any required social distancing? Is there any cleaning done before, after and/or between services? Do you do contact tracing? These are some of the questions that a visitor might have when considering attending a large in-door gathering in the time of Covid. Feel free to point to local and state guidelines in this section.
5. Special Experiences
One of the most popular Christmas traditions is the Christmas Eve candlelight church service, where the story of Jesus' birth is shared alongside a candle illustration that shows how he brought light into our broken world and that light is able to spread through all of us. It's a beautiful illustration and many visitors attend just for that, so it's important to include wether it's something your church does or not. It's also worth sharing about any other activities or special experiences you might offer that week. Some churches setup a Christmas photo booth that is not only fun but allows families to get a free professional and festive photo that they'll likely share on social media later (check out the example from Mosaic Church below). I've seen churches offer a DIY hot chocolate table with tons of treats, Santa meet and greets, jazz bands or caroling in the lobby and even snowman building contests. If you're doing anything beyond just the normal worship service, be sure to mention it on your Christmas landing page. Not only will it help draw them in, but it'll give them something to look forward to that they might not have experienced before in a church setting.
6. FAQ
While you can share all of the above information on your Christmas landing page, sometimes it's still helpful to have an easy to use FAQ. This allows you to answer any questions that might not have a dedicated place on the landing page you created. That might be Covid related info, a spot to share about what to wear just in case the photos weren't clear enough, or just simple things like where to park and how long service is. This is also a great place to include a contact form or some contact info in case a potential visitor has any questions not answered on the page. We think Forefront Church did a great job gathering a bunch of common questions and utilizing our Accordion block to display the info in a pleasing and easy to navigate way.
Have you made your Christmas Landing Page yet? If not, we're doing a free workshop on 12/15/21 at 3:30pm EST where we'll walk you through how to create one on The Church Co using best practices and including everything listed above. We'll also have a short Q&A afterwards for any questions related to your Christmas landing page or about The Church Co. You can register here.